Please follow these guidelines to make sure your California documents are acceptable for apostille services by Documents International, LLC. Once you are sure your documents are ready:
1. DOWNLOAD THE ORDER FORM: Click here to download and print the order form.
2. SEND US YOUR DOCUMENTS AND ORDER FORM TO:
*E mail us at service@apostilla.com
3. RECEIVE YOUR CALIFORNIA APOSTILLE:
GUIDELINES TO PREPARE YOUR CALIFORNIA DOCUMENTS FOR AN APOSTILLE
BIRTH, MARRIAGE AND DEATH CERTIFICATES ACCEPTABLE FOR APOSTILLE
California Birth, Marriage and Death Certificates must bear the seal and signature of the County Clerk-Recorder, County Recorder, Department of Health Services (DHS), County Assesor, Registrar Recorder or Controller Recorder.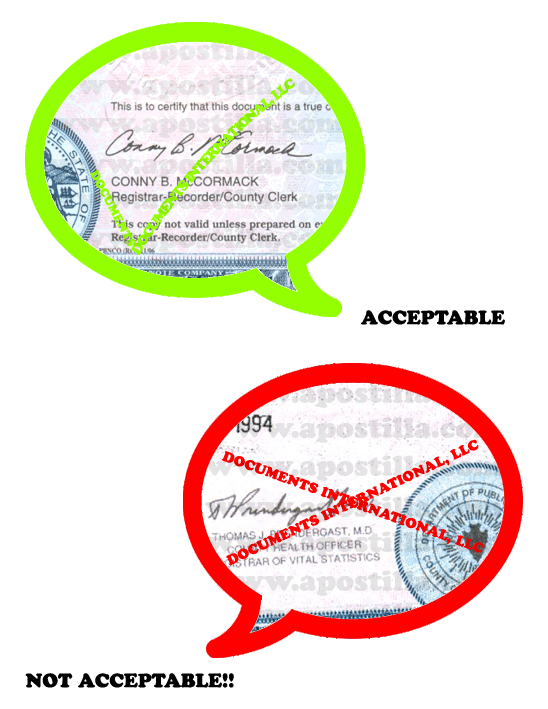 NOT ACCEPTABLE FOR APOSTILLE
The size and color of all documents issued within the past 10 years are basically the same, even those which in fact are not acceptable. If the Birth, Marriage or Death Certificate is signed by the Local Registrar, Medical Officer (M.D.), County Health Officer, Health Care Agency or is issued by the Department of Public Health or Registrar of Vital Statistics or Vital Records Section then is not suitable for an Apostille because it specifically needs to be issued by the County Clerk's office. * Your document may or may not have a bar code, either way is acceptable. To obtain a new Birth, Marriage or Death Certificate go to this website: www.vitalchek.com. For further details on how to expedite your Apostille contact Documents International ,LLC. at +1-212-810-2124 or e mail us at service@apostilla.com
DIVORCE DECREES ACCEPTABLE FOR APOSTILLE FROM CALIFORNIA
The document must have a stamp (FILED) on the front top right, and a seal on the back from The Superior Court of the given County.
CALIFORNIA NOTARIZED DOCUMENTS ACCEPTABLE FOR AN APOSTILLE
California notarized documents must have an acknowledgement or jurat statement stapled to the original notarization.
WHAT IF MY DOCUMENTS ARE NOT ACCEPTABLE FOR AN CALIFORNIA APOSTILLE? If your documents are not acceptable for an California apostille, order new copies from www.vitalchek.com or check if you qualify for rush apostille service. rush apostille service…
…………………………………………………………………………………………………………………………………………………………
The State of California is divided into fifty eight counties: Alameda | Alpine | Amador | Butte | Calaveras | Colusa | Contra Costa | Del Norte | El Dorado | Fresno | Glenn | Humboldt | Imperial | Inyo | Kern | Kings | Lake | Lassen | Los Angeles | Madera | Marin | Mariposa | Mendocino | Merced | Modoc | Mono | Monterey | Napa | Nevada | Orange | Placer | Plumas | Riverside | Sacramento | San Benito | San Bernardino | San Diego | San Francisco | San Joaquin | San Luis Obispo | San Mateo | Santa Barbara | Santa Clara | Santa Cruz | Shasta | Sierra | Siskiyou | Solano | Sonoma | Stanislaus | Sutter | Tehama | Trinity | Tulare | Tuolumne | Ventura | Yolo | Yuba