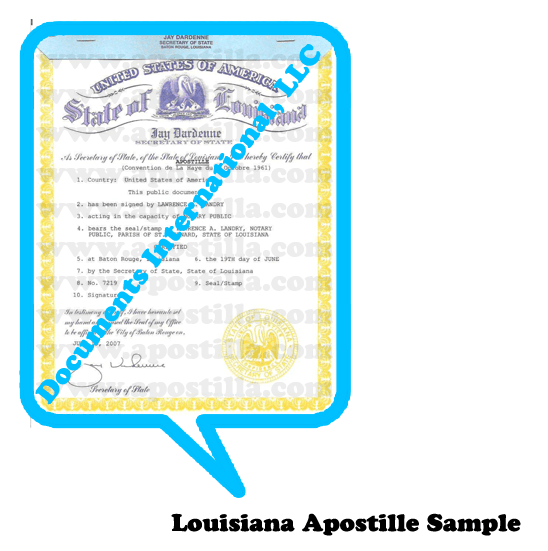 Please follow these guidelines to make sure your Louisiana documents are acceptable for apostille services by Documents International, LLC. Once you are sure your documents are ready:
1.
DOWNLOAD THE ORDER FORM: Click here to download and print the order form
.
2.
SEND US YOUR
DOCUMENTS
AND
ORDER FORM
TO: * E mail us at
service@apostilla.com
3.
RECEIVE YOUR LOUISIANA APOSTILLE:
GUIDELINES TO PREPARE YOUR LOUISIANA DOCUMENTS FOR AN APOSTILLE
BIRTH, MARRIAGE AND DEATH CERTIFICATES ACCEPTABLE FOR APOSTILLE
Louisiana Birth, Marriage and Death Certificates must bear the signature of the Registrar of Vital Records.
DOCUMENTS ACCEPTABLE FOR APOSTILLE
Documents signed by Louisiana Notary Publics, Clerks of Court, Deputy Clerks of Court, Ex-Officio Notary Deputy Sheriffs, Judges, Justices of the Peace, and the Registrar of Vital Records.
UNIVERSITY OR SCHOOL DOCUMENTS ACCEPTABLE FOR APOSTILLE
Transcripts and diplomas signed by state accredited university's registrar, president, dean etc., and transcripts and diplomas signed by the high school's superintendent are acceptable.
* For further details on how to request your Louisiana vital records document and expedite your apostille contact Documents International, LLC at +1-212-810-2124 or e mail us at
service@apostilla.com
WHAT IF MY DOCUMENTS ARE NOT ACCEPTABLE FOR A LOUISIANA APOSTILLE?
If your documents are not acceptable for a Louisiana apostille, order new copies from
www.vitalchek.com
or check if you qualify for rush apostille service.
rush apostille service…
…………………………………………………………………………………………………………………………………………………………
The State of Louisiana is divided into 64 parishes: Acadia Parish | Allen Parish | Ascension Parish | Assumption Parish | Avoyelles Parish | Beauregard Parish | Bienville Parish | Bossier Parish | Caddo Parish | Calcasieu Parish | Caldwell Parish | Cameron Parish | Catahoula Parish | Claiborne Parish | Concordia Parish | De Soto Parish | East Baton Rouge Parish | East Carroll Parish | East Feliciana Parish | Evangeline Parish | Franklin Parish | Grant Parish | Iberia Parish | Iberville Parish | Jackson Parish | Jefferson Davis Parish | Jefferson Parish | La Salle Parish | Lafayette Parish | Lafourche Parish | Lincoln Parish | Livingston Parish | Madison Parish | Morehouse Parish | Natchitoches Parish | Orleans Parish | Ouachita Parish | Plaquemines Parish | Pointe Coupee Parish | Rapides Parish | Red River Parish | Richland Parish | Sabine Parish | St. Bernard Parish | St. Charles Parish | St. Helena Parish | St. James Parish | St. John the Baptist Parish | St. Landry Parish | St. Martin Parish | St. Mary Parish | St. Tammany Parish | Tangipahoa Parish | Tensas Parish | Terrebonne Parish | Union Parish | Vermilion Parish | Vernon Parish | Washington Parish | Webster Parish | West Baton Rouge Parish | West Carroll Parish | West Feliciana Parish | Winn Parish